OXYGEN THERAPY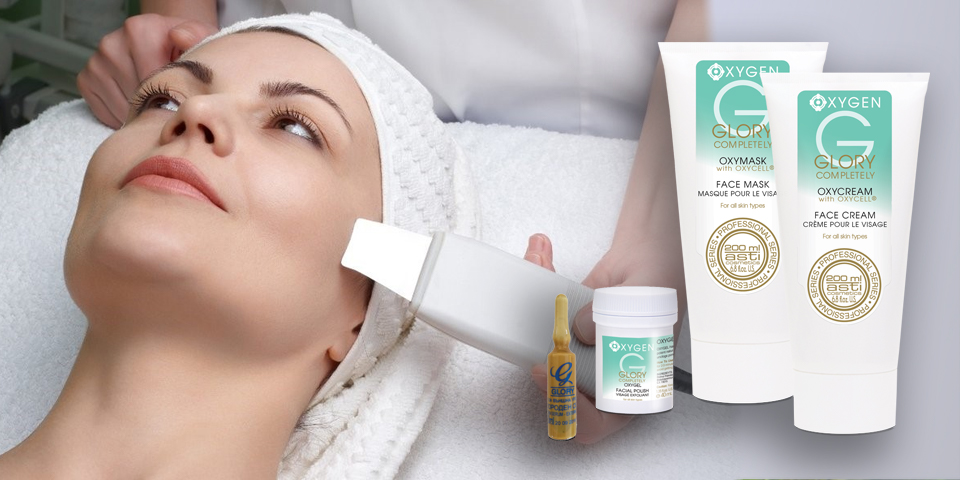 Oxygen Therapy with OXYCELL®
Oxygen Therapy with OXYCELL® uniquely combines modern technology and carefully balanced selections of natural ingredients to allow in the most effective way for a visible reduction of the appearance of signs of skin aging, stress, and damage.
The key ingredient in Oxygen Therapy, OXYCELL® works in synergy with other super boosters to improve skin's hydration and oxygenation while serving as a protective shield against the abuse of the elements. The look of young and beautiful skin with radiant vitality becomes achievable.
Click to Download VivaLaCara Collections Brochure

READ MORE
Skin consumes, "breathes" oxygen
Age, physiology, stress, smoking, air conditioning, UV rays, and environmental pollution are the main factors leading to oxygen deficiency. Oxygen deficient skin does not adequately absorb nutrients. The results are premature aging, lack of tone and dull complexion. The effect of oxygen starvation in the skin is unflattering and easily visible.
OXYGEN THERAPY features a recently developed substitute for the animal, or human placenta extracts - the natural plant-derived OXYCELL®.
OXYCELL® placenta Filatov vegetal extract, the key ingredient of OXYGEN THERAPY is designed and manufactured by Solabia Group, France. On the way to substitute animal resources for placenta extracts with plant resources, Solabia Group scientists mainly directed their research towards seeds of corn. They based their work on the principle that seeds naturally contain all the substances needed to promote the development of the germ, or "plant embryo", and on the assumption that seeds are to the germ what the placenta is to the fetus.
OXYCELL® placenta Filatov vegetal extract is obtained according to professor Filatov's method from non-genetically modified kernels of corn seed, high in amino acids, protein, peptides, mineral salts, and sugars.
To obtain OXYCELL ®, corn seeds are placed in a cycle of freezing/thawing in succession and followed by an autoclaving stage at 120°C and various filtrations. Once corn seeds are placed under harsh stress conditions, self-defensive biological substances, called "biostimulins" are secreted by tissues to counter aggression. "Biostimulins" were first discovered in the 1930s by the Russian ophthalmologist professor Vladimir Filatov, a corneal transplant specialist. It is now known that these "biostimulins" are peptides very similar to growth factors, which explains their action.
History
The story of placental extracts began in 1930 when the Russian ophthalmologist Vladimir Petrovich Filatov [1875-1956], a corneal transplant specialist, noticed better results when the transplanted corneas were kept cold or subjected to desiccation for some time. He then hypothesized that any living tissue put in extreme conditions produces and releases bioactive elements to keep its cells alive. Without knowing, at the time, what the chemical nature of these elements could be, they were named "biostimulins". Biostimulins, discovered by Professor Filatov are biological substances secreted by the cells when they face adverse living conditions. It is now known that these biostimulins are peptides very similar to growth factors, which explains their action.
READ LESS
Showing 1 to 8 of 8 (1 Pages)