BOTOX EFFECT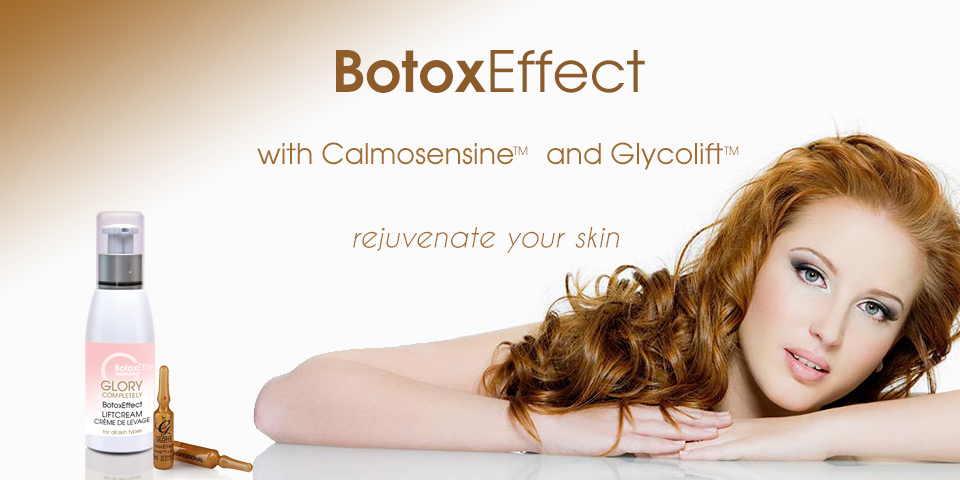 BotoxEffect with CALMOSENSINE™ and GLYCOLIFT™
For all skin types, including sensitive skin.
This natural, toxin-free alternative to Botox injections works to reduce the appearance of fine lines and wrinkles, caused by repeated facial expressions. Contains neuropeptide CALMOSENSINE™, biosaccharide GLYCOLIFT™, and synergy of botanical extracts, plant collagen, co-enzyme Q10, and vitamins to help diminish the signs of aging.
BotoxEffect Collection consists of serum and cream, both innovative and effective combinations of natural anti-aging ingredients in their optimal concentrations.
Click to Download VivaLaCara Collections Brochure

READ MORE
CALMOSENSINE™, the Lipo-dipeptide Tyr-Arg, consists of the two amino acids tyrosine and arginine, which are proteins building blocks, naturally present in the human body.


GLYCOLIFT™, a biosaccharide substance, presents an instant tightening, smoothing and moisturizing benefits to the look of the skin, and imparts a "second skin" effect for anti-pollution protection from external factors.




READ LESS
Showing 1 to 3 of 3 (1 Pages)