BOTOX EFFECT
<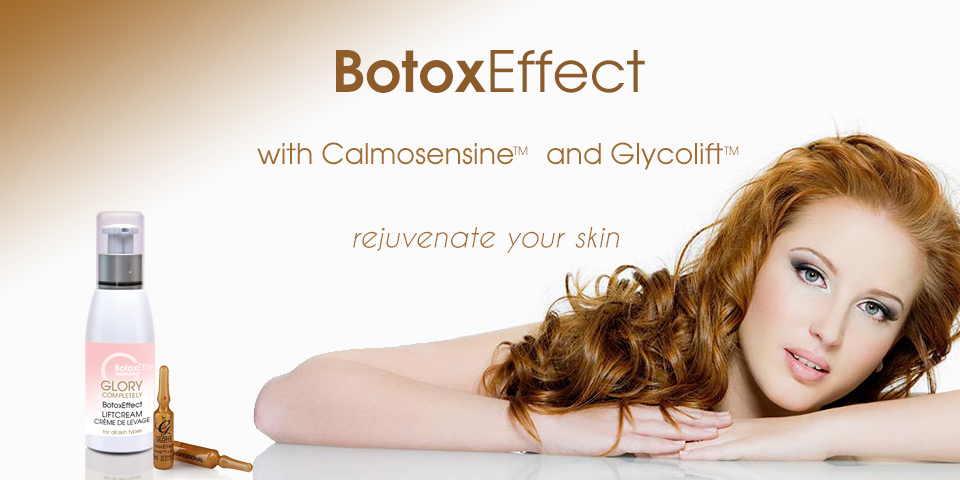 BotoxEffect with CALMOSENSINE™ and GLYCOLIFT™
For all skin types, including sensitive skin
The anti-aging BotoxEffect collection consists of a serum and a day cream. Patented neuropeptide CALMOSENSINE™ and biosaccharide GLYCOLIFT® combine to prevent the onset of expression lines and visibly smooth wrinkles caused by repeated facial expressions. Carefully curated professional strength ingredients such as plant collagen, allantoin, Q10 coenzyme, botanicals, and vitamins, provide hydration, protection, and nourishment to improve skin elasticity and firmness. Age lines appear softened and facial contours look redefined.
Click to Download VivaLaCara Collections Brochure

READ MORE
CALMOSENSINE™
Lipo-dipeptide Tyr-Arg consists of two amino acids - tyrosine and arginine, protein building blocks naturally found in the human body. CALMOSENSINE™ is the first cosmetic active that acts as a messenger for the senses. It modulates the perception of unpleasant sensations and
helps put the skin at ease, creating a more comfortable and relaxed sensation.
GLYCOLIFT™
biosaccharide substance
imparts a "second skin" effect for protection from external factors, deeply moisturizes,
instantly tightens, and smoothes skin.
READ LESS
Showing 1 to 4 of 4 (1 Pages)